You ever wonder why Big call centers WON'T post their pay/benefits and keep it a secret? We figured it out why and its Shocking!
Well we wondering the same thing so we sent in a mole to apply at all the big centers and get the details everyone really wants to know. This was no easy or short process as Big Centers some times take several days to complete interviews so over the month of December 2021 we applied and interview and got the details on what the real deal and cut thru the bola and got you just the FACTS.
Philippines call center scandal revealed. Here is what they don't want you to know Un-Covered!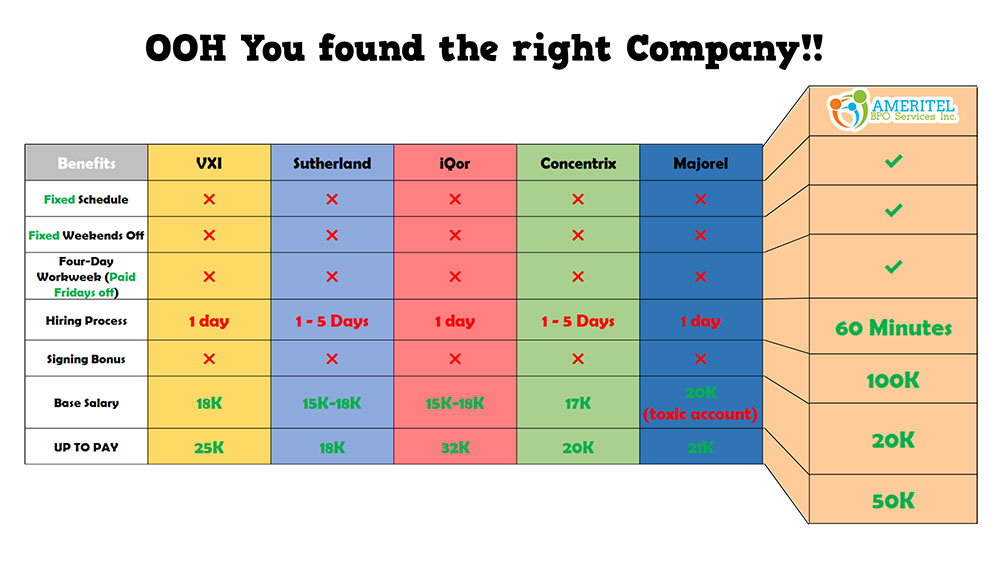 Its crystal clear which is the best the center to work at in 2022 AMERITEL BPO! Scroll below find your Dream Job and APPLY NOW!
Ameritel has even more benefits than any center in the Philippines here is the complete list:
40k perfect attendance bonus
1k weekly quota bonus
Excess quota lead bonus
10k monthly Employee of the month bonus
2k Referral Bonus for each person unlimited
Paid and OFF USA holidays
Free HMO benefit
Free on site Wi-fi access to all employees
Free Aircon shuttle service
All Bonus's are both paid the follow week and in cash zero taxes!
​
We hire Character and We train Skill
We are always looking for bright minds and enthusiastic people from diverse backgrounds, who want to be part of an outstanding team.
We have several job openings available.  The jobs are listed below.  Detailed information for each position can be found by clicking the buttons below.  Come join the winning team!
ADDRESS:
2B6 Philexcel Business Park, Clark Freeport Zone 2009 Clark, Philippines
LANDLINE:
(045) 499 – 8690
MOBILE NUMBER:
0963-321-2899
EMAIL ADDRESS: