Work from Home Lead Generation Agents
(Commission-based)
It's as easy as 1-2-3!
Simply apply online by clicking HERE

Attend our fully paid 90-day on site training.

Then you're a trained Ninja and ready to make HUGE pay
(Everyone is welcome and eligible.​)
Work directly with a USA-based company Lead Hustler from the comforts of your home on either a full or part-time basis. 
You will be provided all the training and support for you to make as much money as you want in either Full or Part time roles. 
Average reps should be able to make $1,000 a month and high performing reps up $2,000 US dollars a month!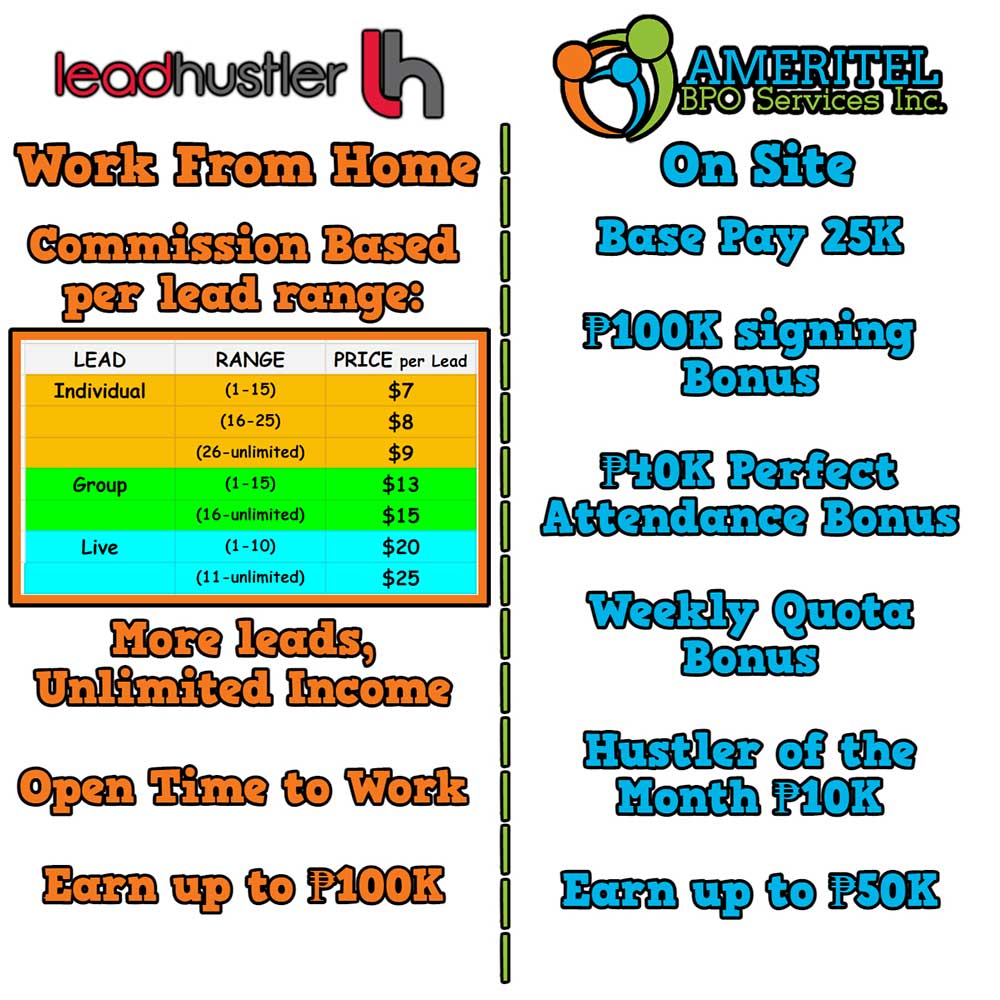 Qualifications:
Previous outbound lead generation preferred
With work from home experience is preferred
Strong communication skills
Coachable
Self motivated
Great active listening skills.
Exceptional interpersonal and rapport-building skills.
Requirements:
Must have a quality internet connection
VPN or a static IP address for the internet service provider is required to use our CRM
Training:
Training lasts 90 days ON SITE and is fully paid. You can go 100% remote after passing the 90 day on site training.
Schedule
-Work hours are from 10 PM to 7 AM PH time Monday to Friday You can start or end earlier or later up to you.
-Part-time / Full-time
Getting Paid:
Paid in US Dollars
100% Commission-Based
Pay will be every 10 working days and on the following Tuesday in the USA.
Payment through PayPal G-cash or other Online Banking 
Commission Structure: Sliding scale the more Leads you Make the more they are Worth Per Lead!
Leads are counted Monday thru Saturday
Pay Break Down:
Open calling campaign (Individual or Group leads)
Qualified lead $7 per lead (1-15)
Qualified lead goes to $8 per lead (16-25)
Qualified lead goes to $9 per lead (26 to unlimited)
Group leads that are specifically for Group only Campaigns:
Qualified group leads $13 (1-15)
Qualified group leads go to $15 (16 to unlimited)
Live Call Transfers Campaigns:
Qualified Transfers $20 (1-10)
Qualified Transfers $25 (11 to unlimited)
The more leads you make in each category once you have exceeded the tier level then ALL of the leads you made that week then move up to the higher amount of money per lead.